Down To Earth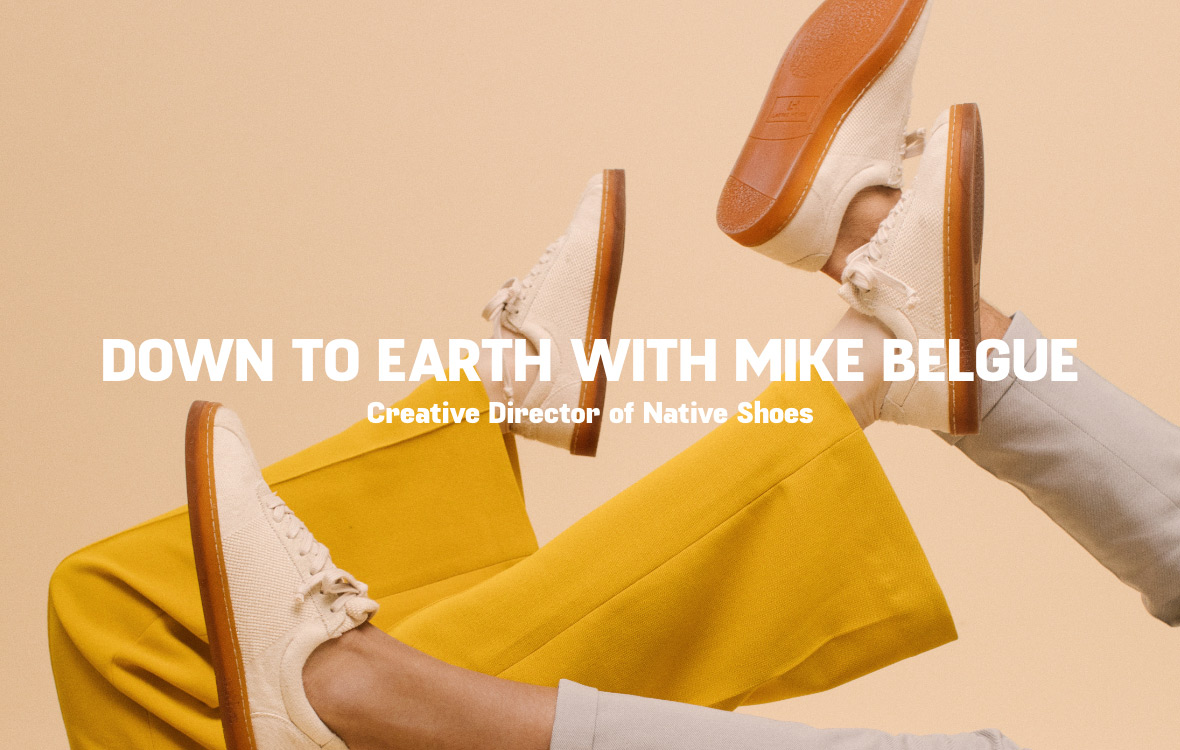 Down to earth with Mike Belgue
This is truly the first of its kind on the planet, a modern sneaker evolved by pulling back from the roots to solve for the future. Extensive research and development, and over two years in the making has culminated into this new, ground-breaking frontier for Native Shoes. Introducing The Plant Shoe - the world's first 100% sustainable, plant based sneaker which is commercially compostable. Creative Director, Mike Belgue, details the creation process of the shoe, the origins of its materials and what this could mean for the future of Native Shoes and potentially the world at large.
Who is behind the creation of the Plant Shoe?
A number of people. We (Native Shoes) started working on the project in 2017, and really we are only as good as our production partners and suppliers, who worked with us to develop their products and techniques to achieve the goal of 100% plant based ingredients and 100% biodegradability.
Where did the motivation come from to design a shoe that was entirely natural and 100% plant based?
From day one (2009), Native Shoes has always been animal free, which resulted in a number of collateral environmental benefits, by happy accident, not necessarily by design. As we started to become aware of the impact of the success of our shoes, we realized we needed to find a way to create a recycling program or alter the life cycle of our EVA product. No one else had a realistic solution for recycling EVA, so we developed our own process and program, called the Remix Project. As we worked to roll that out across North America, it became a catalyst for us to think about what would be next. And​ the ultimate expression of what's next is to eliminate the waste step entirely, by making something that completely biodegrades.
"THE ULTIMATE EXPRESSION OF WHAT'S NEXT IS TO ELIMINATE THE WASTE STEP ENTIRELY, BY MAKING SOMETHING THAT COMPLETELY BIODEGRADES."
What does it mean for a shoe in this modern day and age to be 100% natural materials?
It's funny, none of our materials are particularly ground-breaking, and in some guise (maybe with a bit of tweaking), they've been around for a long time. No one previously has looked to the past to solve for the future. ​ We used very old techniques, using old materials (jute, kenaf, linen, hevea), and figured out a way to make them all work for a modern sneaker.
How did you decide on designing this silhouette for the shoe?
We try to transcend trend at Native Shoes, in an effort to make something timeless and classic. ​ We wanted a shoe that was seasonless, genderless and adaptable to any situation, while being elevated and the right shape and canvas for our material palette and construction techniques.
Are any aspects of this shoemaking process (materials, engineering, etc) proprietary to Native?
We developed (with our factory partners) a way to stitch the sole that uses entirely plant based threads that are strong enough for sneaker construction. I don't know if it is proprietary, but I have certainly never seen it done before.
Can you speak to the extensive process in engineering the shoe?
Using plant based materials this pure means that no shortcuts can be used, which are the status quo of current shoe and material manufacturing. For example, the pure hevea lactae sole has no petro-chemical catalysts and no additives in it. As a result, it takes up to two weeks to make a single pair of soles. Compare that to mere minutes for a number of modern polymers.
Where is the shoe produced and how did you find the right manufacturer?
The shoe is produced in Portugal, and given the materials, and the techniques needed, it had to be a small, nimble and ultra high quality partner that would understand the effort and time needed to make the shoe and to be a partner in creating something entirely new.
Were there any initial setbacks in employing the materials you wanted to use?
We had to solve for the main connection point between the upper and the sole. For most sneakers, using glues or adhesives is the standard practice, and as we were striving for 100% plant based in every element, we couldn't use a petro-based adhesive. As we are animal free, most "natural" strong adhesives have some horse components in them, which left us with water based, natural latex adhesives only. These can be used in a supplementary capacity, but aren't strong enough for the main bond. We landed on needing a stitched, mechanical bond, but all stitched shoes use a synthetic thread, which was out of the question. Cotton, and even hemp kept breaking in testing, so finally we landed on a special type of jute thread, but it was so thick and burly that it couldn't be threaded through the stitching machine. Using some classic local know-how, the shoe makers at the factory started experimenting with soaking the thread in olive oil, and even developed a special hopper to pre-soak the threads as they are fed into the sewing machine.
The Plant Shoe emphasizes Native Shoes' pillars of social responsibility - why is it important to you and your team to uphold these values and push footwear to new frontiers?
With our mission to Live Lightly, Native Shoes is dedicated to being 100% life cycle managed by 2023 - ensuring that all the product we produce has an end solution that is not a landfill. The ultimate expression of this concept was to eliminate the waste step entirely, by making something that completely biodegrades. The Plant Shoe is the first step of many on this journey.