Animal Free Recipe Series: Salted Caramel Apple Tart
Animal Free is our way of saying that no animal products are used in the creation of our shoes. It is part of our commitment to being easy on the earth and those we share it with.
Caitlin Shoemaker is a vegan recipe developer, sharing her delicious plant-based dishes on her blog From My Bowl. She chooses veganism for her health, the animals, and the planet.
Food is my love language. Aside from the enticing smells and satisfying taste of a good meal, there's just something so special about being able to put your time and energy into a dish - especially when sharing it with someone you care about.
As a full-time recipe developer, you'll pretty much always find me playing with plants. However, I especially like to put in a few extra hours of kitchen-time when the holidays roll around. I love to prove to my friends and family that vegan food can be just as delicious as the classic animal-based dishes, and I'd also take a few hours of shared chopping, kitchen dancing, and taste testing over a well-planned outing any day.
If you're looking to get some quality cooking time in this season as well, I highly suggest this Salted Caramel Apple Tart. The buttery crust combines with tart Granny Smith Apples and a (highly addicting) Salted Caramel Sauce to create a delicious, wholesome, and hearty dessert. While you can simply mix the Apples with the sauce and plop everything into the Pie Crust, I like to have a little fun and arrange the Apples in a spiral pattern. The final result is well worth the effort!
Food brings us together during the holidays, but navigating the not-so plant-based world can sometimes weigh us down. Just like Native Shoes keeps things Animal free and lite, this Salted Caramel Apple Tart will still leave you and your loved ones feeling full and bright - which leaves even more time for belly laughs and holiday adventures!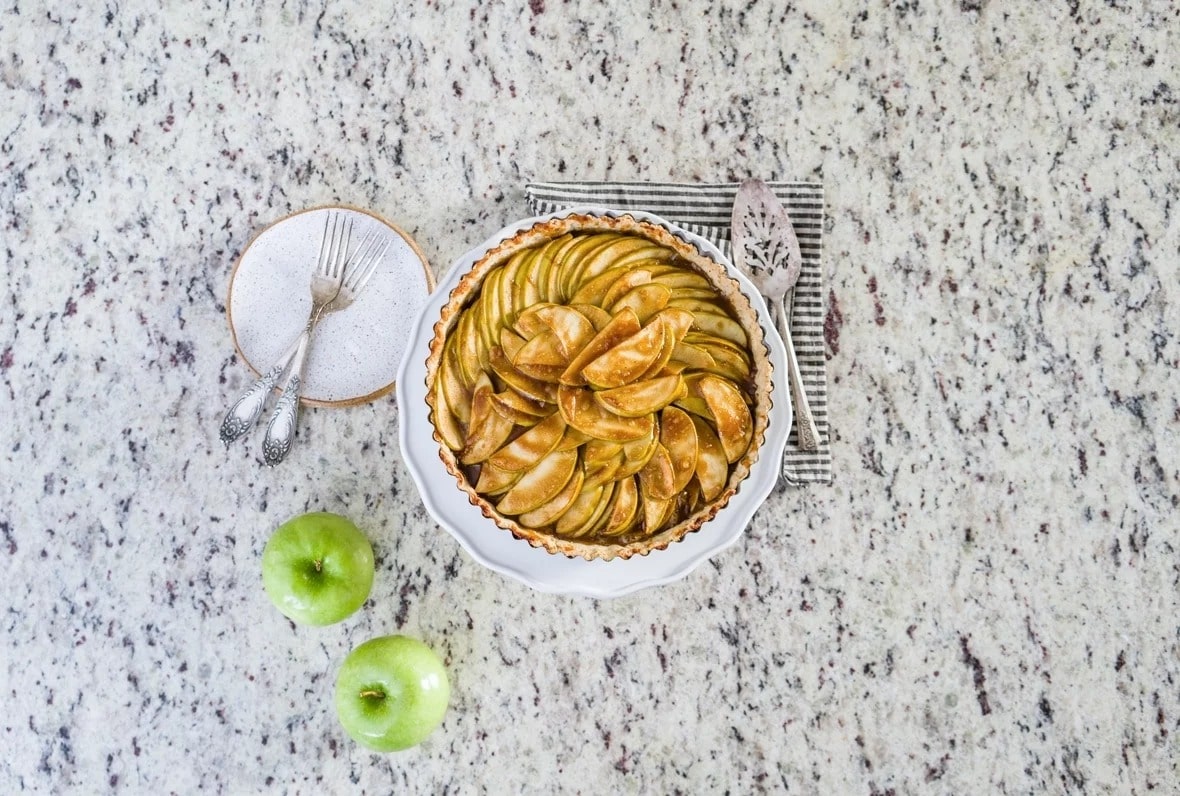 This Salted Caramel Apple Tart is Vegan, Gluten-Free, and Refined Sugar-Free, but you won't notice! A perfect fall or winter dessert for sharing with friends and family.
Salted Caramel Apple Tart
Prep Time: 15 Minutes
Cook Time: 35 Minutes
Serves: 8-12
For the Crust:
1 ¼ cup Almond Flour
⅓ cup Arrowroot Powder
2 tbsp Ground Flax + 5 tbsp Water
½ tsp Salt
For the Filling:
3 large Granny Smith Apples, thinly sliced
½ cup + 2 tbsp Full Fat Coconut Milk
½ cup Coconut Sugar
1 tbsp Yellow Miso Paste
1 tbsp Arrowroot Powder
1 tsp Vanilla Extract
¼ tsp Cinnamon (Optional)
Juice of 1 Small Lemon
Directions
First, prepare the Pie Crust. Combine the Ground Flax and Water together in a small bowl and let sit for 5-10 minutes, until thickened. Combine the Almond Flour, Arrowroot Powder, and Salt together in a medium bowl and whisk well.
Add the thickened Flax Egg to the bowl with the dry ingredients and begin to mix well with a spatula, then use your hands to thoroughly knead into a uniform dough.
Place the ball of dough between 2 sheets of parchment paper, and roll the dough out until it becomes wide enough to cover the base of your pie tin. Peel off the top layer of parchment paper, and gently place your pie tin on top of the dough. Flip the tin over, and remove the other sheet of parchment paper, which should now be on top.
Use your fingers to press the dough evenly into the pie tin (it should be damp, but not sticky). Poke several holes in the dough using a fork. Place the pie tin in the freezer for 20 Minutes; during this time, turn the oven on to 375F.
In the meantime, prepare the Salted Caramel Sauce by adding the Coconut Milk, Coconut Sugar, Miso Paste, Arrowroot, Vanilla, and Cinnamon together to a small pot, whisking well. Bring the mixture to a boil over high heat, then reduce the heat and simmer for 5-7 minutes, until thickened.
Place the sliced Apples into a large bowl and toss them in the Lemon Juice. Add the Salted Caramel Sauce to the bowl and mix well, until all of the Apples are evenly coated. Remove the pie tin from the freezer and arrange the Apples in the base of it, as artistically as you'd like.
Bake for 30 minutes, then let sit at least 30 minutes before slicing, to allow the sauce to thicken. Serve as desired.