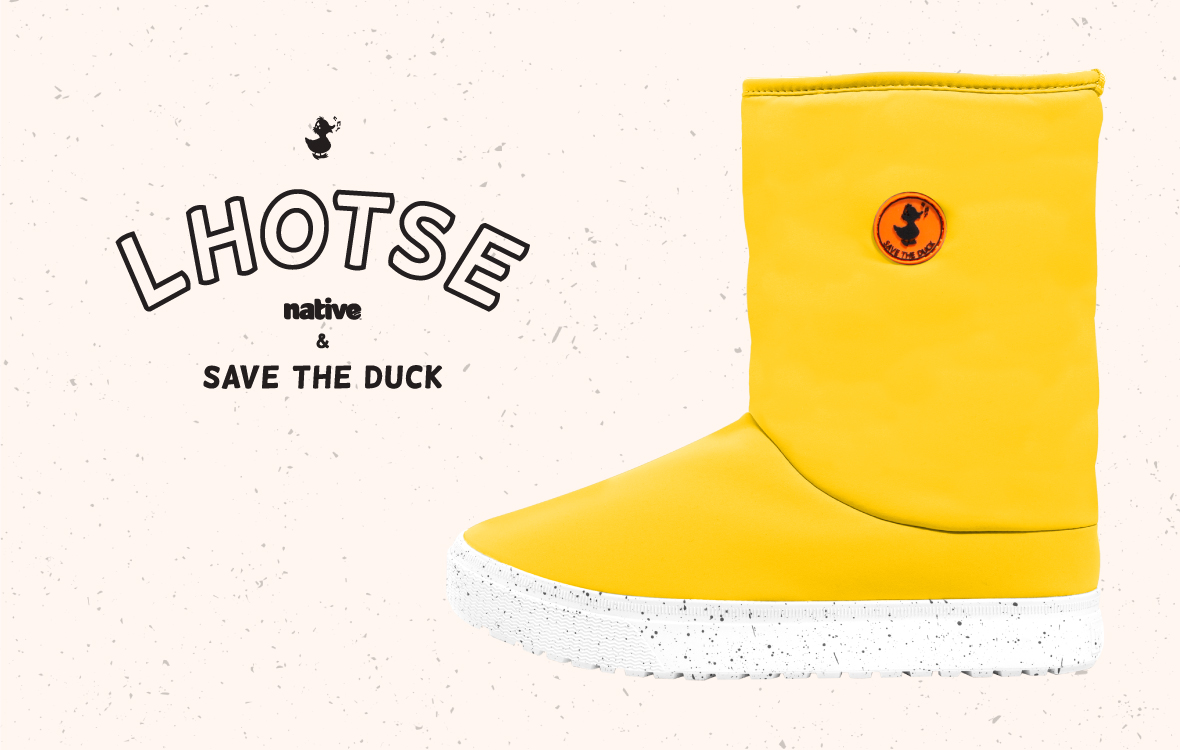 THE BOOT OF THE FUTURE
We choose to be kind, to all kinds. From the human to the furry and feathered, we believe it is our responsibility to be aware of our impact on this place we all call home. With a shared respect for all living things, we've proudly partnered with our friends at Save the Duck to create a boot that's completely animal free.
As expressed by Save The Duck's founder, Nicholas Bargi, we're collectively committed to the future:
"​Native Shoes has taken eco-friendly footwear to a new level, leading the way to a more sustainable world through passion, research and innovation. A truly engaged company that is committed to taking steps toward positive change... our collaboration takes from this common sense of community and beauty, and proves that we can all be part of the change. It is an open invitation for everyone to join us on our journey toward a more sustainable world."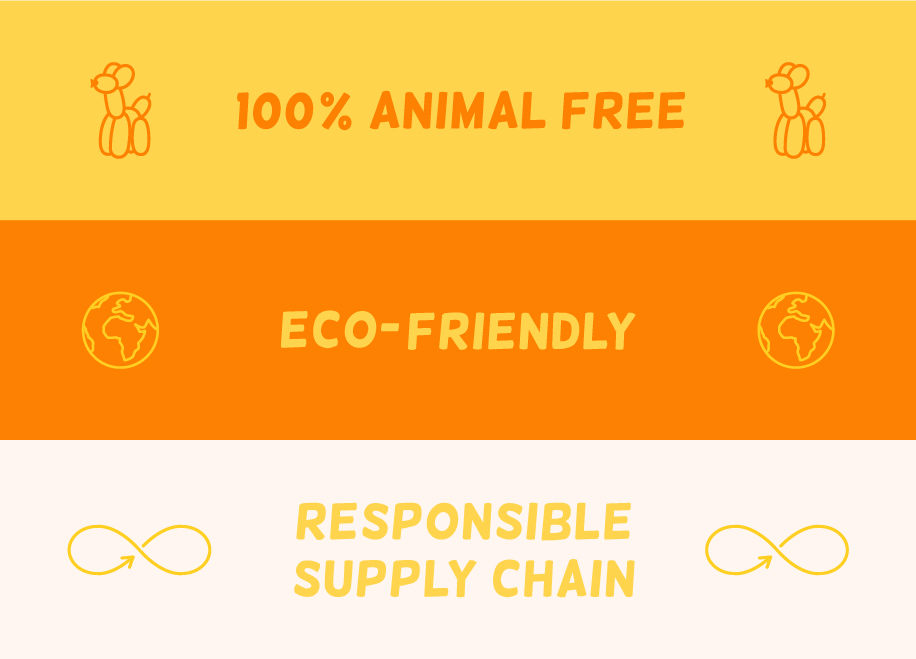 Here at Native Shoes we admire Save The Duck for their vision to live in an animal cruelty free world and reduce the impact our industry has on the ecosystem, that includes animals of all species of course.
"Native Shoes and Save the Duck both believe that we are part of nature and not here to dominate it or our animal friends. The Lhotse boot is beautiful and animal free which allows our animal friends to be free in nature like us. That cheer you hear is millions of sheep in Australia celebrating with the ducks! I invite everyone to join us as Tiny Activists to preserve the natural world for all living creatures to enjoy." - Scott Hawthorn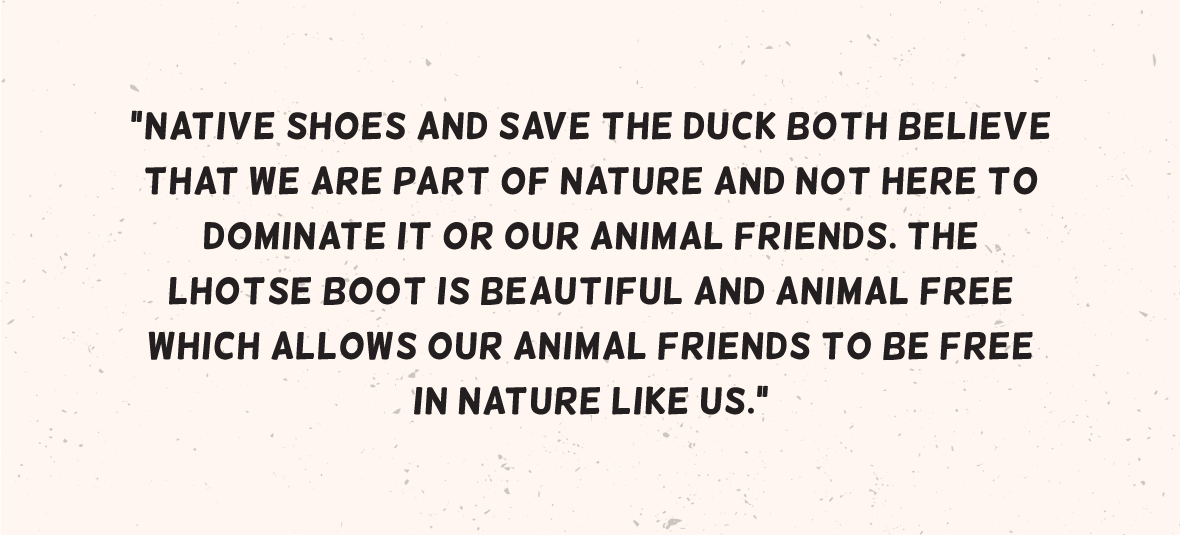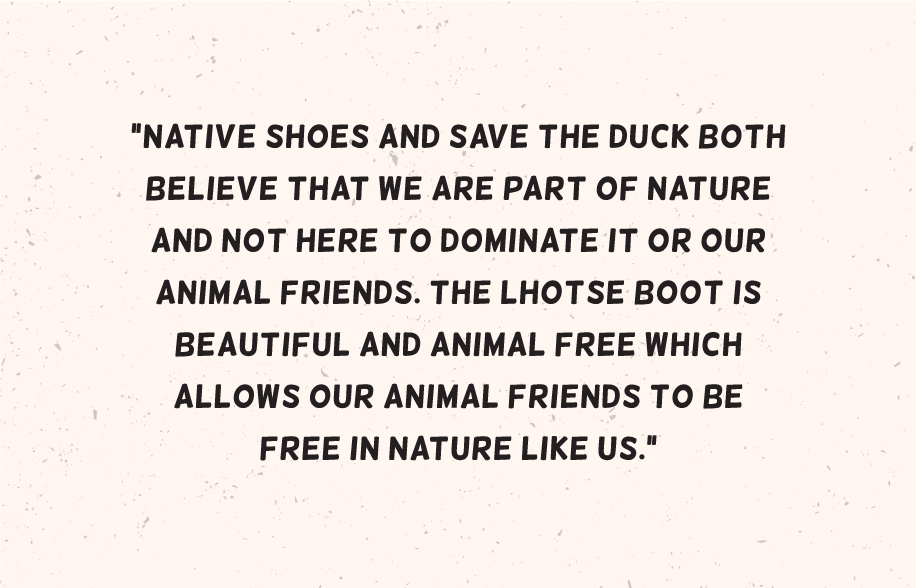 FROM MOUNTAIN TO URBAN OASIS
Meet the Lhotse. Named in honor of the fourth highest mountain in the world and the mountaineers it inspires, like explorer Kuntal Joisher, who became the first human to summit its peak completely animal free. As a Save the Duck ambassador, Joisher successfully summited Lhotse in May 2018 sporting a custom animal-free climbing suit created by the company.
Alternative materials like Save the Duck's 100% polyester fabric are key to innovation and creating a boot unlike any other. An extremely high performer in terms of waterproofness and breathability, this fabric offers resistance against any forecast. As a boot, the Lhotse is always easy to slip on and off thanks to the handy heel pull tab plus the lugged traction provides extra grip. Taking this boot to even higher heights is a cozy sockliner for comfort and cushioning with a lightweight thermoplastic rubber outsole with high sidewalls to create an added water barrier.
Whether you're dreaming of that next exhilarating climb or simply stepping out into an urban playground this winter –– compassion and warmth have never felt better. Join us.