Thanksgiving Dinner Recipe With Chef Roze
We first met Rōze Traore at New York Fashion Week two years ago when he walked a menswear presentation in our AP Moc. These days, the Portland born model-chef is more focused in the kitchen than on the runway, creating dishes for clients that he describes as clean, simple, and sophisticated. In preparation for Thanksgiving (Rōze's favorite holiday), we asked the Le Cordon Bleu alumni to walk us through a seasonally fresh and Animal Free fall dish. Though he'll be taking the day off and enjoying the food-driven festivity as a guest this year, Rōze shares two culinary designs rich in wholesome flavor and autumn hues.
Chef Rōze wears the Jefferson 2.0 (launching 2018) in New York.
FALL BEET SALAD
Ingredients:
3 yellow beets
3 red beets
Salt to taste
Freshly ground black pepper
¼ cup extra virgin olive oil
2 garlic cloves
Sprig of thyme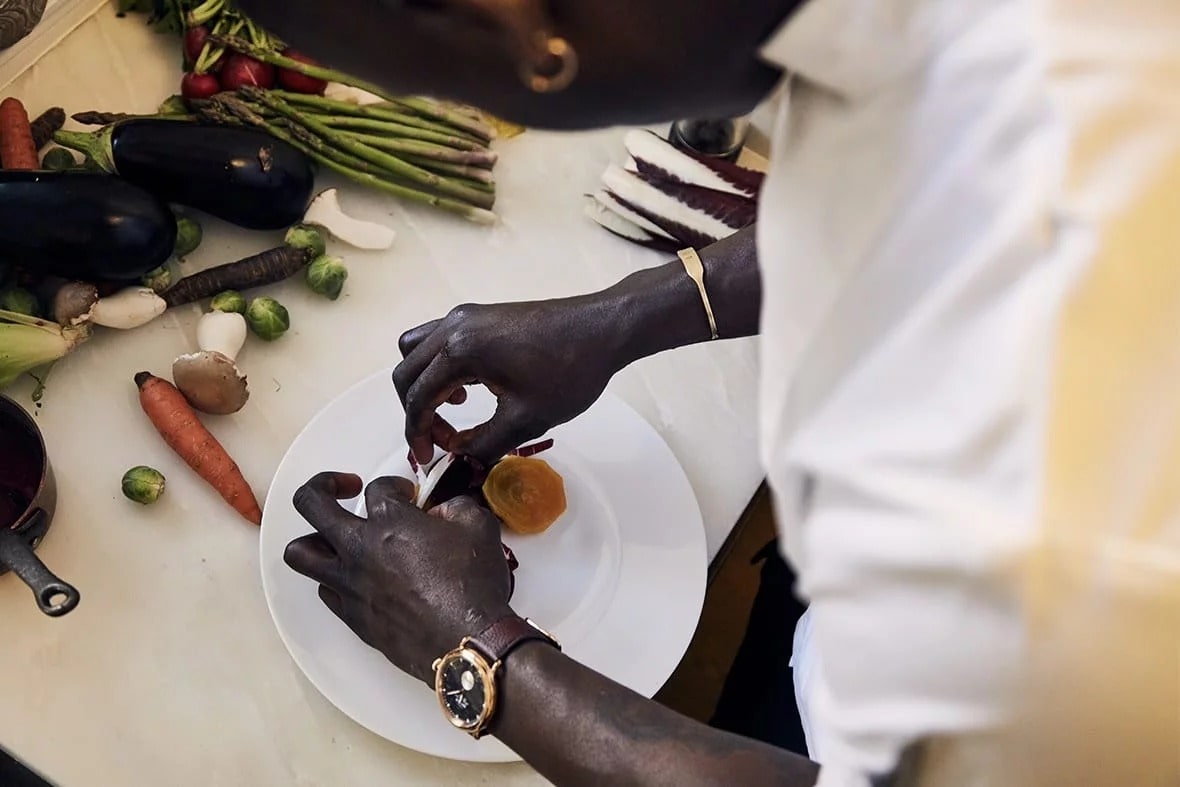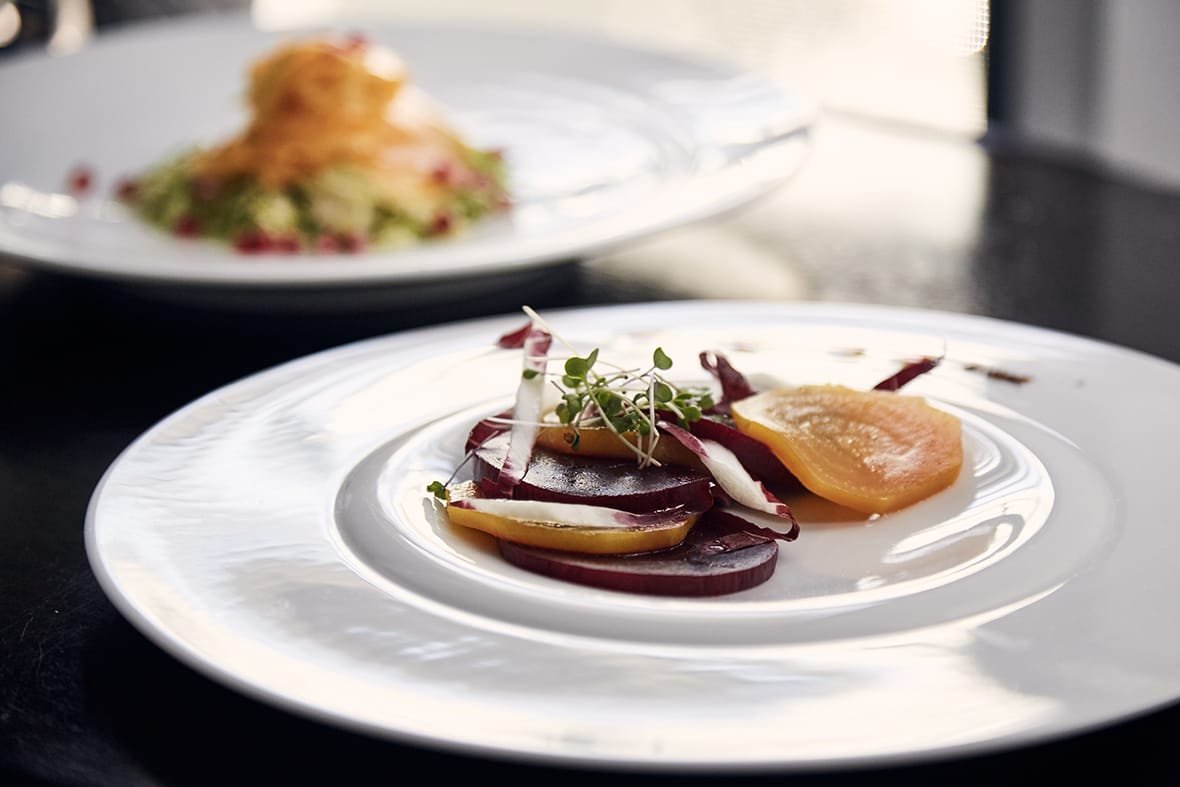 Directions:
In a large pot add the yellow and red beets and fill with water until fully covered.
Cook beets for 35 minutes until they are tender, then place them in an ice bath immediately and remove the skins.
Slice the beets (recommend slicing and peeling the yellow beets first)
In separated containers or zip-lock bag, drizzle some olive oil and add a clove of garlic and sprig of thyme. Seal the container for 10 minutes until the beets become infused.
Add beets to the plates, sprinkle with salt, and drizzle with olive oil.
EGGPLANT WITH CONFIT POTATOES
Ingredients:
1-1/2-pounds baby potatoes, washed and dried
Dozen sprigs of fresh rosemary
Dozen sprigs of thyme
2 eggplants
2 shallots
5 cups extra virgin olive oil
7 garlic cloves
1 teaspoon coarse sea salt
1 cup olive oil
½ cup red wine vinegar
1 celery root
2 apples
¼ cup crème fraiche
¼ cup grapeseed oil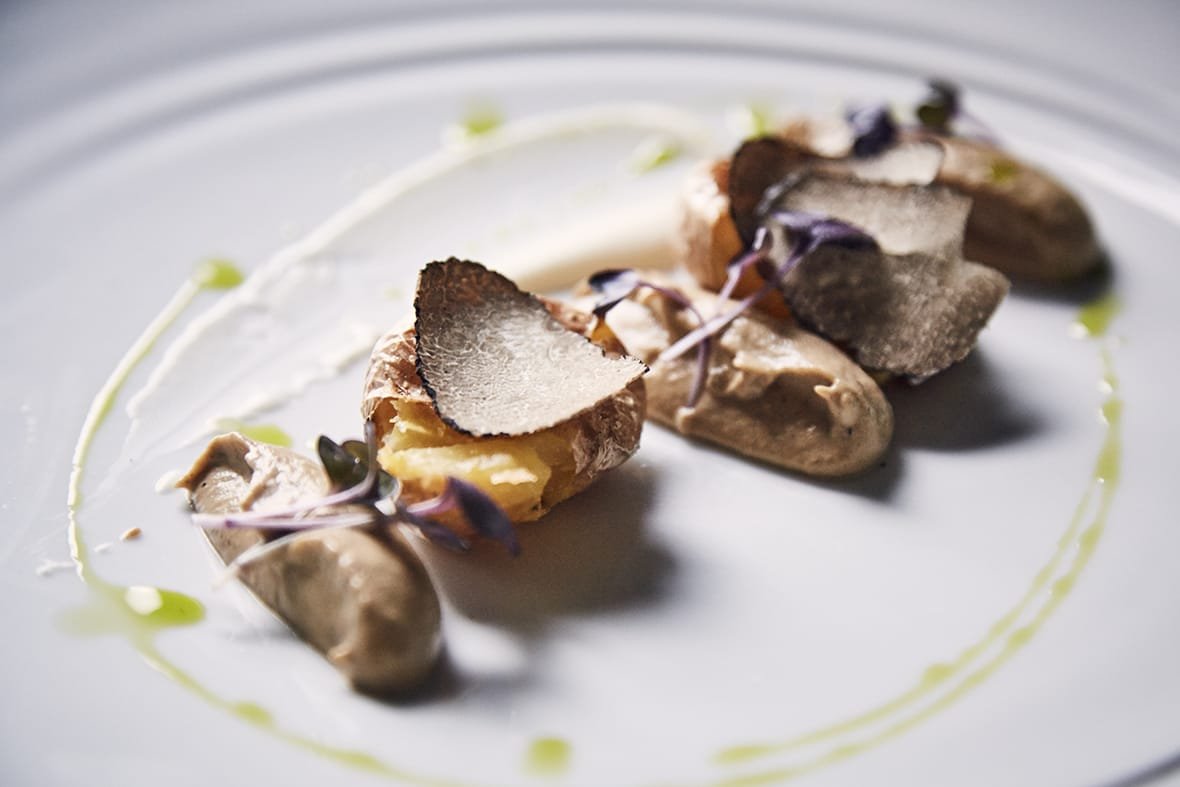 Directions:
Confit potatoes
Clean the potatoes well in warm water.
Add oil to a large pot with the potatoes, garlic, salt and herbs.
Turn to simmer and slowly let the potatoes cook for 25 minutes or until tender.
Eggplant
Add shallots and garlic to a hot pan and cook until translucent.
Peel eggplant, cut into dices and add them to the pan.
Drizzle the eggplant with olive oil and let cook for 15 minutes until golden, then deglaze with red wine vinegar.
Let simmer for 10 more minutes until tender.
Add eggplant to blender with olive oil, salt, and pepper.
Blend for 5 minutes on high speed.
Celery Root Puree
Shave celery root and dice into cubes, adding them to a pot of water.
Cook for 15 minutes and add peeled apples.
Let cook for 10 more minutes.
Strain, keeping ¼ of cooking liquid.
In blender, add crème fraiche, grapeseed oil, and salt until you reach the desired silky consistency. If too thick, gradually add more liquid.